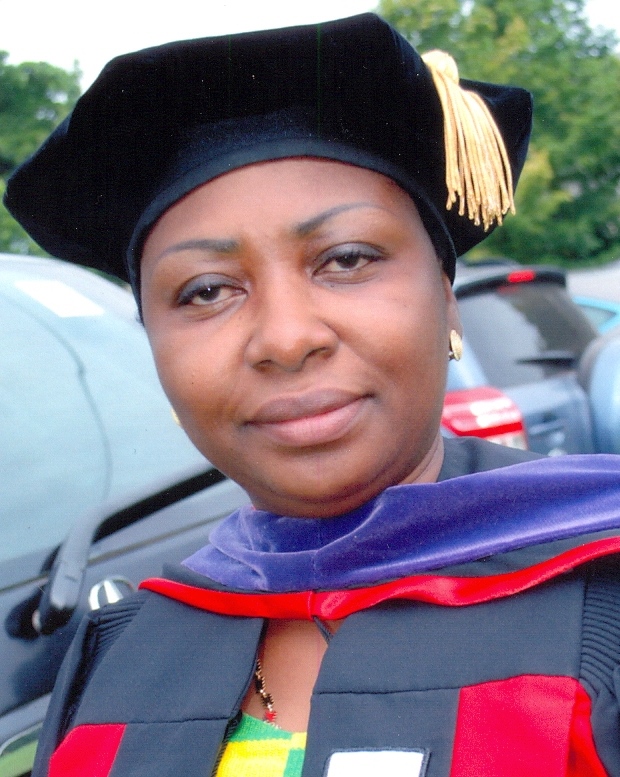 Dr
Dr/Mrs. Renee A.S Morhe
Vice Dean
Department
Email

rmorhe.law@knust.edu.gh
Office-location

Room FF 6
Research-areas
Dr. Renee Aku Sitsofe Morhe, is a Senior Lecturer, Head of Private Law Department and the current Vice Dean of the Faculty of Law, Kwame Nkrumah University of Science and Technology (KNUST). Dr. Morhe joined the academic staff of KNUST, first in 2002 as a part time lecturer with the then Social Science Department and then in 2003 as a pioneer full time lecturer at the Faculty of Law.
Dr Morhe graduated from the Faculty of Law of University of Ghana in 1991 where she obtained her Bachelor of Laws (LL.B) degree. She continued her legal education at the Ghana School of Law and obtained her Barrister at Law (B.L.) degree in 1993. She won the British Chevening scholarship in the year 2000 to read International Human Rights Law at the University of Essex, UK, where she obtained her Master of Laws (LL.M) degree in 2001.
In 2006, with scholarship from the Fulbright Program and the American Association of University Women, Dr. Morhe started her doctoral programme at the Stanford University, USA, where she obtained her Master of the Science of Law (JSM) degree in 2007 and then her Doctor of the Science of Law (JSD) degree in 2010. Since her appointment at Kwame Nkrumah University of Science and Technology, Dr. Morhe has taught a wide range of courses at the Faculties of Law, Social Sciences and the Department of Building Technology. These courses include International Human Rights Law, Public International Law, Customary Law and Succession, the Law of Torts, Criminal law, Jurisprudence and Principles of Law.
In addition to teaching, Dr Morhe has been actively involved in mentorship of students and was founder and Faculty member of the KNUST Law Students for Reproductive Justice Club, a club which for four years was engaged in reproductive justice education for students both on campus and surrounding secondary schools. She is also a member of Graduate Women International and the Soroptimist International Club. Both are non-profit organizations devoted to educating, empowering and enabling opportunities for indigent women and children. Before joining the University, Dr Morhe was a Senior Legal Officer with the Ghana Commission on Human Rights and Administrative Justice.
Her publications are in her area of expertise which are International Human Rights Law, especially the rights of women and children, and Access to Justice generally and Reproductive Justice in particular. Dr. Morhe has consulted for Population Council and Marie Stopes International. Her publications include the following:

1. Renee A. S. Morhe, Developin g Sexual Harassment in the Workplace as a Cause of Action in Ghana, KNUST Law Journal, Volume 1 (2004) No. 1.

2. Renee A. S. Morhe & Emmanuel S. Morhe, Overview of the Law and Availability of Abortion Services in Ghana, Ghana Medical Journal, September 2006, Volume 40, Number 3.

3. E.S.K.Morhe, R.A.S. Morhe & K.A. Danso, Attitudes of Doctors toward Establishing Safe Abortion Units in Ghana, Int J Gynecol Obstet (2007), doi: 10. 1016/j.ijgo.2007.02.023

4. Renee A. S. Morhe, An Overview of Legal Aid for Criminal Cases in Ghana: The History and Challenge of Providing Legal Aid, Commonwealth Law Bulletin, Vol. 38, Issue 1, 2012.

5. R.A.S. Morhe & E.S.K. Morhe (2013). The Law on Defilement in Ghana and Challenges in its Implementation at the Ejisu-Juabeng Domestic Violence and Victims Support Unit of the Ghana Police Service (available at www.iiste.org/Journals/index.php/JLPG/artile/view/7194/7304)

6. R.A.S. Morhe & E.S.K. Morhe & K.A.Danso (2014). Legal and Social Issues of Reproductive Health in Africa in: Danso, Kwawukume, Tagbor & Asante (eds), Comprehensive Reproductive Health and Family Planning in the Tropics at 461-494 (University Press KNUST, Kumasi, ISBN 978-9988-1-5454-7).

7. Renee A. S. Morhe,1 Ato A. Assan Jnr1 & Emmanuel K.S. Morhe2 (2015) Criminalizing Marital Rape under Ghanaian Law, Paper Proceedings of Second International Conference on Advances in Women's Studies 2015 (978-0-9939889-0-5) 100.

8. Renee Morhe, ACCESS TO JUSTICE AND INFORMAL COURTS (Resolving Criminal Cases at Informal Courts: the Ewe of Ghana) ISBN 978-3-639-32941-4 (2010).