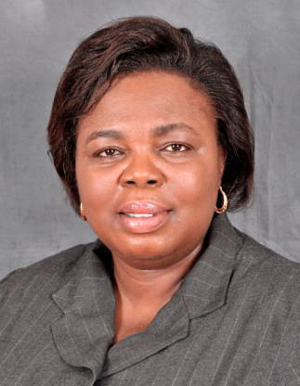 Dr.(Mrs) Lydia A. Nkansah is the Dean of the Faculty of Law, Kwame Nkrumah University of Science and Technology in Kumasi, Ghana. Previously, she held a lectureship at the Ghana Institute of Management and Public Administration, where shetrained members of the Parliaments of Ghana and Liberia on constitutionalism and legislative process; and served as an academic instructor at the Ghana Armed Forces Command and Staff College.
She helped to establish the 3d public law school in Ghana at GIMPA. She was instrumental in legal education by setting up the Law School in Ondo State, Nigeria. Dr Nkansah has facilitated courses at the Kofi Annan International Peacekeeping Training Centre in human rights, transitional justice and the law of armed conflict.
Dr Nkansah's experience in human rights enforcement, in both peacetime and postconflict situations, includes service as: a senior legal officer at the Commission on Human Rights and Administrative Justice of Ghana, where she adjudicated on complaints of alleged human rights abuses and administrative injustices. She was the head of the Research Unit and leader of evidence of the Truth and Reconciliation Commission in Sierra Leone.
She was also the international expert advisor to the Transitional Legislative Assembly of Liberia on a Truth and Reconciliation Bill. Her current research interest examines issues in transitional democracies from the legal perspectives; constitutionalism, the various juridical models for administering justice in order to address past abuses. She has published in the areas of constitutional law, transitional justice, legal theory, democratization, international criminal justice, and consumer protection among others.